Here we are: Art Stories CITIES is online! This is the first issue of our new series, Art Stories 4FUN.
Art Stories CITIES is designed for playing with the cities of the world; we started with five cities, traveling around the world in different continents: Venice, London, Shanghai, Rio de Janeiro and San Francisco.
By playing with CITIES children can learn through play familiarizing with their atmosphere and spotting the key elements: it's a starting point, the first spark of a travel. You'll find Rialto and St. Mark's Basilica, the Big Ben, the Corcovado, The Oriental Pearl Tower, the Golden Gate, all the mayor landmark of every city!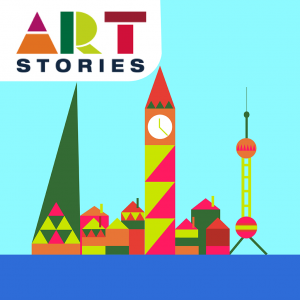 Thanks to the beautiful illustrations by Cinzia Franceschini, children are taken into scenes that are both poetic and true to life, while voices and sounds share the most important pieces of information on every building. When a skyline is completed the city come to life with animations and sounds: children can trigger different events, each peculiar to its city.
We designed Art Stories Cities as the beginning of an exploration: adults can search photographs of buildings and cities kids have met while playing with the app: by doing so, you can jump from illustrations to onsite photographs and – we cannot but wish this to all of you – to a real journey!
And last but not least, to celebrate our new app we have a gift for all of you: the Art Stories Cities London Eye paper toy! You can download it here for free.
You can find Art Stories CITIES on the app store. Let us know what you think of our newest release by leaving a comment on the App Store!